Hi there! Well, we're almost a week into 2013 so I've been thinking about some things I'd like to get accomplished this year. I have a pretty big list and was feeling pretty overwhelmed by what I need would like to get done this year.

Did I even do anything last year? Is my list so big every year? Am I setting myself up for failure with these?

To answer my questions... Yes, Yes and Yes. ;)

I decided to look at what I did in 2012 and it made me feel better... Mr. Chic and I really got a lot done. We even knocked off several things on our 2012 Home Goals list that you can read here after having a total fail on the 2011 Home Goals list. We completed a lot of them but some I haven't posted about yet.

So, what did I do you ask? Here are the highlights of 2012 in case you missed it:

We (mainly Mr. Chic, I supervised ;) sanded and stained our out-dated oak stair railings and banisters. This made a huge difference in our home... it is the first thing you see when you walk in the front door and it really looks so much better.


I finally revealed my monochromatic master bedroom makeover and how to make an upholstered headboard. I will be sharing the other side of the bedroom sometime this year.



We changed out our kitchen hardware, easy and inexpensive but makes a big impact.


We finished our crown molding and I got a new rug!


Did some fun projects with my boys, this was my favorite... Water Color Word Art for Kids.



I had the most successful garage sale I've ever had earning over $80 an hour and I've shared my tips in Garage Sale 101: How to have a Successful Garage Sale. Check out all those empty bins...


I got a little techy and shares some ways you can keep your blog posts from being stolen by blog thieves (losers!)

I shared a DIY burlap wreath tutorial.



I shared more about me here, even though I don't like talking about myself. I want to be your friend. Still thinking about switching to Katie.... ;)



I did a series called 31 Days of Decorating on a Shoestring Budget. Quite the challenge to post 31 days in a row. Next year I need to start earlier...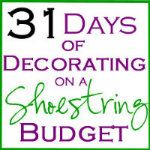 Click the button to see series


I started the series Organizing and Decluttering for Unorganized and Cluttery People. Inexpensive, easy, no-frills organizing for people that don't have time or patience for "fancy" organization. Click the button to see all my organizing posts from 2012.


Click button to see series.


I finally built a Home Tour but haven't added all the rooms yet, many will be added early this year!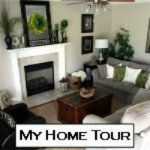 click button for tour

And finally, I was honored and very flattered to be featured at some very awesome places...

DIY Network pictures 14-15
American Profile Magazine under "Eye catcher"
Tatertots & Jello my burlap wreath tutorial featured above
Thrifty Decor Chick my master bedroom makeover
I Heart Organizing my counter clutter buster organizing basket
Design Dazzle kids watercolor art featured above and kids handprint Christmas tree

Looking back on 2012 I'm pretty happy with what Mr. Chic and I accomplished with our home and how much I was able to blog. Through the year I sometimes am discouraged that I'm not posting enough or not getting enough projects done. I think this is pretty common feeling in the blogging world, we see some bloggers who are able to post amazing projects almost everyday of the year and we wonder why we can't keep up.

I have to remind myself that I'm not a full-time blogger... not even close. I'm a full-time mom with a little one at home. I'm a wife and a daughter and a friend. These are my priorities. I'm a part-time interior decorator and I blog for fun when I can. I try to do it regularly but I can't do it everyday and I shouldn't expect myself too. I'm starting 2013 reminding myself that there is no pressure in blogging, just to continue to do what I love and share it with you. No comparisons!

You do the same! :)